DIY Vertical Herb Garden (The Easy Way!)
When I decided that I wanted an easy-to-access vertical herb garden as part of my deck makeover, I wasn't sure what direction to go in. After looking at an expensive configurable vertical herb garden, a pallet herb garden and a window box herb garden, I decided to go with a DIY version of all three. And I couldn't be happier with the result!
I love to cook with fresh herbs. Which means I grow a lot of them in my garden.
As much as I like having them in the garden, I have always wanted to plant the herbs closer to the house to make them easier to pick when I need them. So as part of my recent deck makeover, I decided to include a new herb garden as part of the plan.
However, there were a couple of obstacles to overcome:
There isn't a lot of room to put a herb garden near the house
Since I already a ton of stuff to do for my deck makeover, I didn't want to spend too much time building the DIY vertical herb garden.
And I also didn't want to spend a lot of money
I figured installing a vertical herb garden would be the way to take care of the space issue. And there just happens to be the perfect sunny location between my deck and the arbor leading to my side garden to put one there.
Option 1: Buy a Vertical Herb Garden
This post may contain affiliate links. We make a small commission if you buy the products from these links (at no extra cost to you). As an Amazon Associate, I earn from qualifying purchases. But we only recommend products we would use ourselves. For more information, click here to see our disclosures.
My first thought was to buy a vertical herb garden.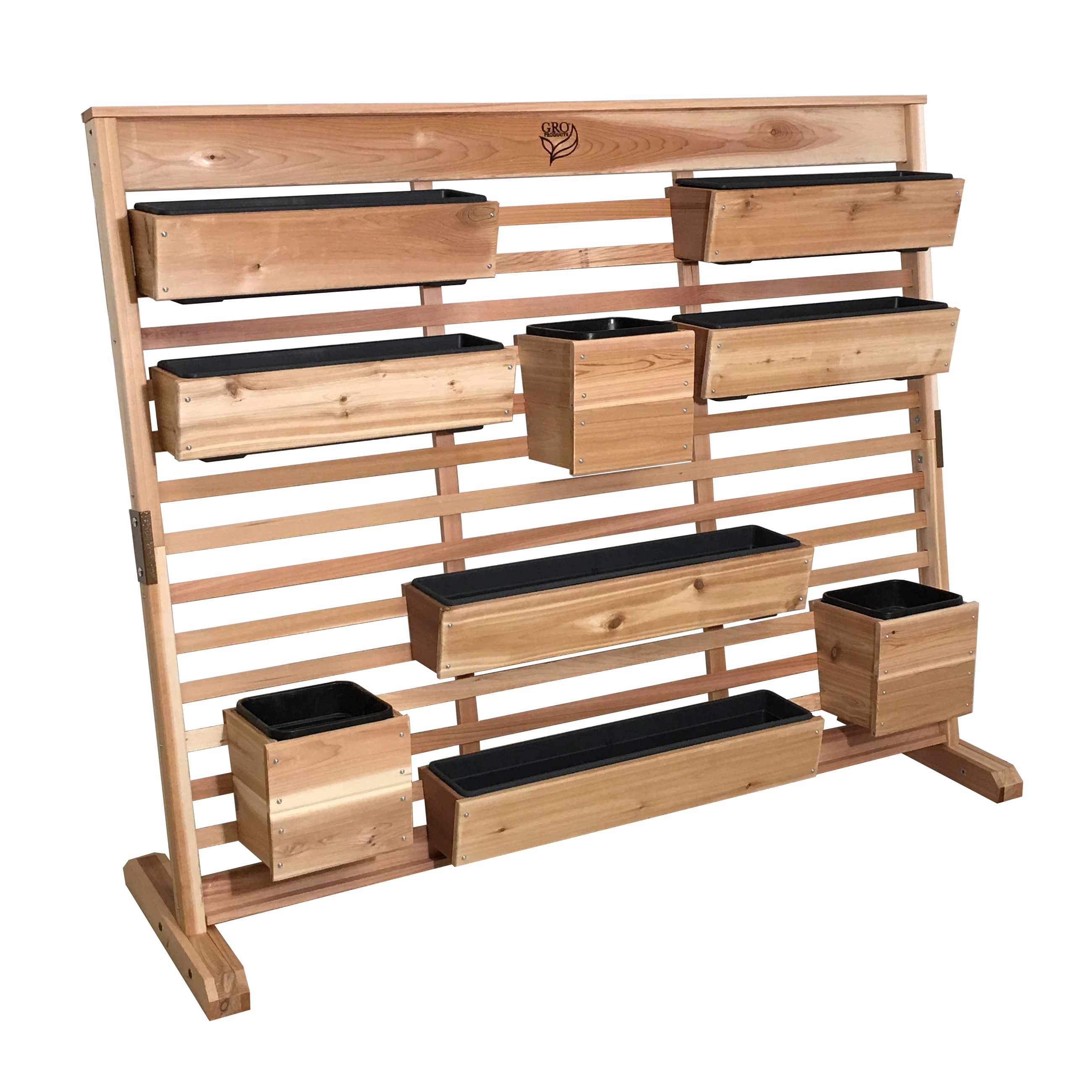 I wanted it to look good, be large enough to grow all of my herbs and be its own structure (so that I didn't have to build something to hang it on).
I found this vertical herb garden* which had all those features, and it was configurable so I could make sure all of the plants got the right amount of sun (an added bonus!)
It seemed perfect. Until I looked at the price!
And decided that a DIY herb garden was the way to go after all.
Option 2: Plant Herbs In A Pallet
I have seen a lot of DIY vertical herb gardens made from pallets. And just happened to have an extra pallet hanging around in my garage. So that was my next plan of attack. (At least, that would take care of the money issue.)
But most of the pallet herb garden designs I have seen involve enclosing the pallet somehow and filling it with dirt. Which sounds like work! And I just didn't think it would be that successful as a garden:
I don't think the space between the front and the back of the pallet is large enough for plants. It seems like the soil would dry out really fast, so keeping them well watered would be an issue.
I think the plants on the bottom of the pallet wouldn't get enough light.
the pallet wood isn't that thick and I don't think it would take very long to start rotting. (The 2″ thick boards around my old herb garden pretty much disintegrated after a few years.) Which means having to re-build the herb garden after a couple of years…definitely too much work!
Many pallets are pressure treated with chemicals that can leach into the soil, and I didn't want to eat herbs that had been exposed to that.
Lastly, if I'm being totally honest, I don't really like the look of pallets (especially when they're installed right by the back door.)
Option 3: Plant A Window Box Herb Garden
So my next thought was just to plant the herbs in window boxes. After all, I have done that on a small scale before and it works pretty well.
But where to hang them?
I could put them under the windows across the back of my house, but I really had my heart set on having flowers planted in there.
I could build a lattice structure to hang them from, but that's a fair amount of work.
Then it hit me…why not combine the design of all three of these options? Create a configuration DIY herb garden using the pallet as the structure to hang window boxes from.
Here's what you need
pallet
spray paint. I used 4 colors of blue.
deck screws
cordless drill or screwdriver
herbs
How to make a DIY vertical herb garden
1 | Paint the pallet
Of course, I still had the issue of making the pallet look better.
However since it's more of a background than the focal point of this project, I figured a little spray paint would be all it needed.
To go with my new deck decor, I went with 4 tones of blue spray paint, and created an ombre effect on the pallet.
To do this, paint the bottom couple of boards with the darkest blue paint.
Then paint the next 2 or 3 boards with the next darkest color.
Paint the next 2 or 3 boards with the second lightest color. And finish the top 2 or 3 boards with the lightest color.
Wait for an hour or so to let it dry, then turn the pallet over and paint the other side the same way.
2 | Install the pallet herb garden frame
Installing the pallet herb garden frame was easy.
Just use deck screws to attach one side of the pallet to a fence post, arbor post or even a wall.
Just make sure the pallet slats are running horizontally (not vertically).
Mine actually does double-duty as a trellis for the rose that is growing behind it.
3 | Plant the window box herb garden
The final step was to plant the window boxes with herbs, and hang them on the pallet.
I used these inexpensive window boxes* which came with hooks (meant for installing over balcony railings).
Those hooks are perfect for hanging over the slats on the pallet.
However, if your window boxes don't have hooks, you can also screw them directly into the pallet slats.
I hung mine in a zigzag pattern so that the higher boxes aren't blocking the sun (and rain) for the lower ones.
If you're not sure what to plant in your window boxes, try these 7 easy to grow herbs and these tips on how to plant a window box herb garden.
Adding plant labels will help you remember which herbs you planted where.
And that's it! Your easy DIY vertical herb garden is complete!
Of course, you could also use this vertical garden for growing vegetables with smaller root systems like lettuce (carrots probably not so much).
My next step is to set up an automatic watering system for my DIY vertical herb garden so I don't have to worry about them drying out. Stay tuned for more information on that!
Other herb garden ideas you might like
Have comments or questions on our easy DIY vertical herb garden? Tell us in the section below.
This post was originally published on May 13, 2019 but was updated with new content on December 9, 2021.